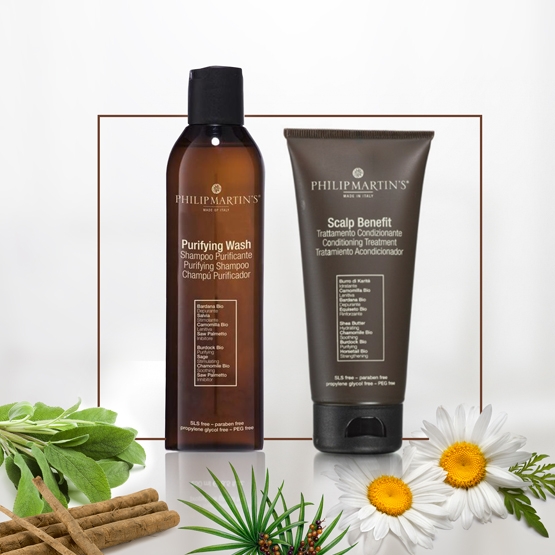 PURIFYING WASH & SCALP BENEFIT RINSE SET
Now you can enjoy the complete basic hair-care routine for healthier & beautiful hair.
Out of stock
ADD TO WISHLIST
Purifying Wash 320ml
Purifying shampoo ideal for a greasy scalp with anomalies. The Saw Palmetto helps removing the daily excess sebum preventing hair loss. The Purifying family is dedicated to greasy, asphyxia scalp conditions and thin hair. These products help remove the excess sebum and regulate the hyperhidrosis preventing hair loss. They cleanse and tone up the skin giving a pleasant sensation of freshness and cleansing. Rinsed hair will remain clean for longer because the products perform delicately on the hydrolipidic surface of the scalp without creating alteration to the skin's pH.
Scalp Benefit Rinse 200ml
Conditioning treatment formulated for people who have extensions, who frequently change hair colour, make permanent or hair straightening and that have skin problems such as: accumulation of toxins, irritation, sensitive skin and hair loss.
Purifying Wash 320ml
Burdock Bio - Purifying
Sage - Stimulating
Chamomile Bio - Soothing
Saw Palmetto - Inhibitor
Scalp Benefit Rinse 200ml
Shea Butter - Hydrating
Chamomile Bio - Soothing
Burdock Bio - Purifying
Horsetail Bio - Strengthening
SLS free – paraben free
propylene glycol free – PEG free
Apply a small amount of Purifying Shampoo on the palms of your hands, emulsify and distribute massaging on scalp and damp hair. Rinse thoroughly. Followed by applying a small quantity of Scalp Benefit Rinse on clean scalp. Leave for 1/15 minutes and rinse well.
Conceptual Beauty Sdn Bhd (1027180-T)

+603 6276 8890
marketing.philipmartins@gmail.com
Search
Copyright © 2016 Philip Martin's Malaysia | All Rights Reserved