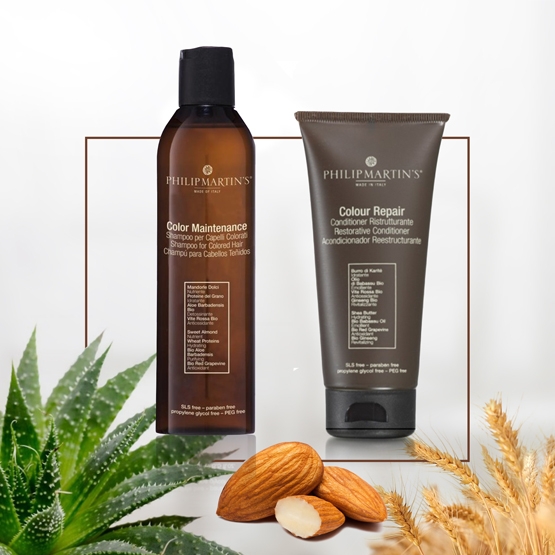 COLOUR WASH & RINSE SET
Now you can enjoy the complete basic hair-care routine for healthier & beautiful hair.
RM 415.00
ADD TO WISHLIST
Colour Maintanence Wash
This is the specific shampoo for colored and treated hair which livens up and revitalizes the color. It contains vegetable emulsifiers and has natural conditioning characteristics which enhance hair shine and silkiness.
Colour Repair Rinse
Conditioner rich in butters and vegetable oils which regenerates and revitalizes the hair. Hydrates, gives elasticity and reconstructs the damaged hair protecting it after chemical color treatments. The hair will be soft and shiny with enhanced and prolonged color.
Colour Maintanence Wash
Sweet Almond - Nourishing
Wheat Proteins - Hydrating
Bio Aloe Barbadensis - Purifying
Bio Red Grapevine - Antioxidant
Colour Repair Rinse
Shea Butter - Hydrating
Bio Babassu Oil - Emollient
Bio Red Grapevine - Antioxidant
Bio Ginseng - Revitalizing
Distribute a nut of Colour Maintanence Wash on wet hair to create a thick foam. Rinse thoroughly. Followed by applying a small quantity of Colour Repair Rinse on clean hair ends, after shampoo. Comb from top to ends and leave from 5 to 10 minutes. Then rinse abundantly. Can be used daily.
Conceptual Beauty Sdn Bhd (1027180-T)

+603 6276 8890
marketing.philipmartins@gmail.com
Search
Copyright © 2016 Philip Martin's Malaysia | All Rights Reserved